By Sloane Barlow
In early July, the Academic Scholars Program (ASP) began its second annual Accelerating Connections and Excellence program (ACE), which invites incoming first-year Academic Scholars Program students to experience college life and an Honors College course before fall classes start.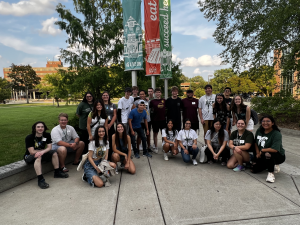 The ACE Program is designed to welcome incoming students, support their academic and social transition to the university, and further introduce them to resources and opportunities available on and off campus. Through the program, over 20 incoming Academic Scholars have the opportunity to begin working toward their ASP requirements by completing their First-Year Experience course and 1 of 2 Honors experiences and take advantage of reduced tuition through the Spartan Early Start program.
This summer, the course that is offered is called "Michigan and the World," a 3-credit hybrid (online and in-person) course from July 6 to August 20, taught by Dr. Delia Fernández-Jones.
"I'm very excited to be working with the ACE program this summer," said Dr. Fernández-Jones. "These students are really remarkable. The ACE team has really crafted a holistic experience that is preparing students for life at Michigan State and in the Honors College, while also creating bonding experiences."
In the course "Michigan and the World", students learn the history of Michigan with a focus on the groups of people who are often left out of the dominant narrative.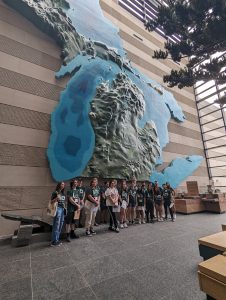 "I was thrilled to find support from the Honors College to take students on a field trip to the Michigan History Center to assess the dominant narratives shared in the museum," Dr. Fernández-Jones said. "Students even had the opportunity to engage the director of museums, Tobi Voigt, in a conversation about the museum narratives, belonging, and exclusion."
Following the museum visit, ACE students have continued to analyze primary and secondary sources about these excluded groups of people to help fill in the gaps throughout Michigan's historical narrative.
In hopes of contributing to diversifying Michigan's narrative, students are assigned to submit entries to Clio, an online mapping system that identifies locations with historical and cultural significance. "These entries will highlight the little-known stories of immigrants and migrants who have contributed to Michigan and are rarely acknowledged," said Dr. Fernández-Jones.
With only a couple weeks left in the course, Dr. Fernández-Jones is already wildly impressed with the diligence and passion of her students: "Students have blown me away with their commitment to our course and especially the investment in making the narrative of Michigan more inclusive."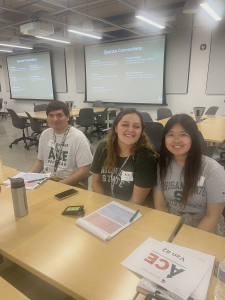 During the program, the incoming students are also offered guidance by Undergraduate Learning Assistants (ULAs) on the academic and social transition to Michigan State. The 2023 ACE Program has been financially supported by Kim and Judith Swanson who have generously underwritten the stipends of the ULAs. These ULAs are vital to helping students acclimate to campus and to introducing them to new opportunities.
Biochemistry and Molecular Biology fourth-year student Cheyenne Marchand is one of several mentors helping lead the ACE program this summer. Marchand serves as a ULA by going over class content, helping students with tough subjects, and by providing a cohesive and fun learning environment. As a ULA, Marchand helped her peers in the Academic Scholars Program make the transition to Michigan State a smooth one.
"ACE is impactful for incoming students because it helps students make connections and friendships with other new students, so campus doesn't feel lonely," she said. "I think students should participate because the program gets you a sneak peak of what college is like before starting your first semester."
One of the students, incoming first-year Dilan Patel said a few words on the learning experience he has gained through the program so far this summer.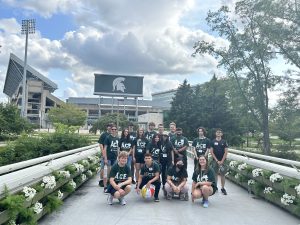 "The ACE program is a very beneficial bridge program for incoming students," Patel said. "It has been very helpful in the transition to Michigan State. Taking the class with ACE has prepared me for my expectations of how college-level classes will be. I have also made connections within the Honors College that have already been helpful with my transition to MSU."