Honors Leadership Conference
Save the date:
The 2024 HLC will be hosted on Friday, March 29!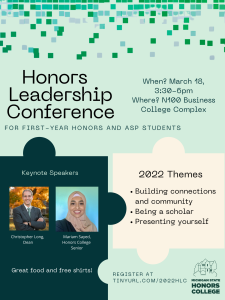 The 2023 conference was held on Friday, March 24.
The information below is from the 2022 conference held Friday, March 18, 3:30-6:00 p.m.
Using the theme of Building Your Honors Network and Community, the annual conference provided first-year MSU Honors College & Academic Scholars Program students a chance to learn valuable skills to navigate a changing world.
In particular, the Honors Leadership Conference discussed a variety of topics such as:
Building connections and community (i.e., leadership opportunities, connecting with classmates)
Being a scholar (i.e., seeking mentorship, collaborating with faculty, engaging in research_
Presenting yourself (i.e., powerful public speaking, writing your elevator pitch)
Or a related topic of your choice
Connect more with the Honors College after the Conference: https://linktr.ee/2022HLC
---
Sample Schedule of Events
3:00pm-3:30pm – Arrival & Registration
3:30pm-3:45pm – Opening Keynote – Room: BCC N100
3:45pm-4:25pm – Breakouts Block A

Building Restorative Communities – Room: BCC N124
Leveraging Formal Graduation to Address Business and Civic Challenges – Nationally and Globally – Room: BCC N103
Connecting Academic Activities Your Identity and Future Goals – Room: BCC N105
From Pushin' P to Pushin' C. Your Leadership Can Lead to a career – Room: BCC N106

4:25pm-4:35pm – Break
4:35pm-5:15pm – Breakouts Block B

Brand Building: How to Tell Your Story Professionally – Room: BCC N103
Speak Your Truth: Insights into Networking and the Portrayal of Multiculturalism in the Job Search – Room: BCC N124
Preparing and Applying for Prestigious Scholarships! – Room: BCC N105
 Adapt Your Communication – Room: BCC N106

5:15pm-5:45pm – Networking Session
5:45pm-6:00pm – Closing Keynote – Room: BCC N100
See the full 2022 HLC Program Booklet here.
---
Keynote Speakers
Opening Keynote – Dean Chris Long
Christopher P. Long, Dean of the College of Arts & Letters and Honors College at Michigan State University, is committed to expanding the transformative power of liberal arts research and teaching by enriching graduate and undergraduate education, deepening our commitment to equity, recruiting and retaining world-class faculty, and creating new opportunities for collaboration among community partners.
Closing Keynote – Mariam Sayed
Mariam Sayed is a senior in the Honors College who currently majors in Physiology and French here at MSU and hopes to work in communities of underserved francophone regions, as a health care provider someday. Mariam is a Wielenga Research Scholar who has been engaged in research that seeks to broaden access to opportunities and health care for individuals with communication challenges. Mariam was also this year's first prize winner in oral presentations for the Honors College 5th Annual Diversity Research Showcase.