Research Opportunities
Michigan State University is a leader in offering research options for academically talented students in every discipline.
Undergraduate research: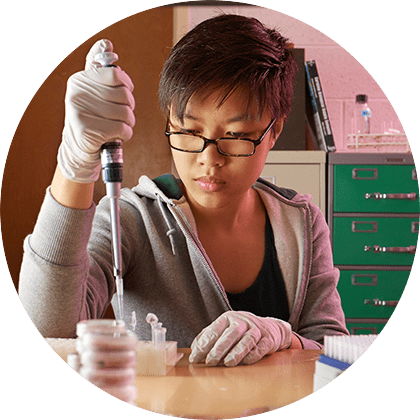 Connects leading faculty mentors with undergraduate students
Fosters the development of the student's knowledge and academic skills
Enables student researchers to consider publishing and presenting their work at regional or national conferences
Encourages development of the students' own independent research
Provides a competitive edge for students considering graduate school
Research Programs
Research programs, especially for Honors College students, include paid assistantships as well as research and independent study classes for credit.
Research Publications and Presentations
Red Cedar Undergraduate Research Journal (ReCUR) – an academic journal published by the Honors College
University Undergraduate Research and Arts Forum – held each spring with presentation opportunities for students in all areas of study
Research Support
Modest support for research, including independent study and thesis work, is available.
Additional Helpful Links
Venture – a database of research, scholarship and creative opportunities available to MSU undergraduates