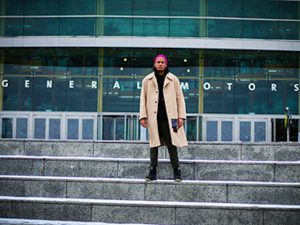 As a child, Cleveland Thrasher ('09) liked to visit his godfather, John Smith, who at the time was a designer for General Motors. Thrasher often would play around with the design software on Smith's home office computer.
"I was always kind of a self-learner," Thrasher said, remembering how he would go through his older sister's math books and work on the problems.
As a senior in high school, Thrasher decided to attend Michigan State University and study electrical engineering – the same path of study his oldest sister, Jeneace, had taken.
But that only lasted a semester.
"Art was kind of calling towards me," he said.
After consulting with an adviser, Thrasher switched his major to telecommunication, information studies and media and never looked back. Karl Gude, now director of the College of Communication Arts and Sciences Media Sandbox, taught him how to use the pen tool in Adobe Illustrator and from there, Thrasher started creating different digital designs by hand.
As a student in the Honors College, Thrasher was able to branch out and take classes that also peaked his interest in audio production, philosophy and entomology. Those Honors experiences helped him become a "deep generalist."
"It's helped to mix the pot of my ideas," he said.
Thrasher started his own design company before graduating from MSU, creating designs and mix tape covers for Sony artists, including Sean Kingston and Mike Posner. Eventually, he started working for a marketing company, DigitasLBi, and became its senior art director.
Now he is associate creative director for Weber Shandwick, a public relations firm for General Motors with offices in the Renaissance Center.
"When I come into a place like advertising, which is basically where you are being paid to be creative, all those different inputs that kind of came into my life through education and through Honors College definitely come out," he said.
Thrasher recently worked on a new video for the launch of the 2018 Chevy Traverse and also worked on the website for the Buick Regal at his prior job. Having some engineering background helps in his work for the automotive industry, he said.
This article was originally published in HConnections 2017.