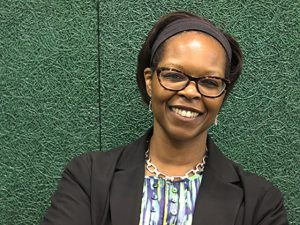 Alyssa Harvey Dawson ('91) likes to analyze problems and find solutions.
These are skills she honed at Michigan State University studying journalism, then as a Georgetown University law student and then as an attorney for companies like Netflix, Harman and now Sidewalk Labs.
"(While at MSU), I thought I would pursue a graduate degree," Harvey Dawson said. "The law seemed appealing to me because part of it is…it's similar to what you are supposed to do as a journalist – dig through the issues and understand the arguments."
After taking a business law class at MSU, Harvey Dawson said she knew, "I wanted to do something that could have an impact on a business."
And she's made good on that aspiration.
Harvey Dawson is general counsel and head of legal, privacy and data governance for Sidewalk Labs, an urban innovation company that is comprised of city planners and technologists re-imagining what urban life could look like.
The opportunity at Sidewalk Labs to work through many leading-edge corporate issues, including how to better embed privacy and data protections throughout a project, excites Harvey Dawson.
Prior to her work at Sidewalk Labs, Harvey Dawson was vice president of global intellectual property and licensing at Harman International Industries – a company focused on car technology connectivity and engineering lifestyle audio innovations. At Harman, she restructured the strategic intellectual property program, integrating the function more with the business, technology and products teams, resulting in, among other things, increasing the patent and patent pending portfolio for the company by 33 percent.
She also started a technology licensing business focused on getting additional value from Harman's intellectual property, including its trademarks and audio technologies.
Harvey Dawson said her goal at Harman was to create a tight alignment between "what we build, what we protect, how we do our brand (and) how we do our contracts."
Her work captured the attention of her peers and earned her a spot on IAM magazine's list of the world's top 300 intellectual property strategists in 2016 and 2017.
"How much Harman was actually innovating – I wanted to bring attention to that," Harvey Dawson said. "It's always nice when your peers recognize what you are doing."
Harvey Dawson's career has now included work on broadcast and communication deals at private law firms, serving as senior corporate counsel for Autodesk and getting in at critical moments at some of Silicon Valley's most famous start-ups – including helping Netflix while it was transforming into the streaming media company that it is today.
"These days there are lots of lawyers out there and the profession has many different tracks it can take," she said. "Go for what interests you. Don't necessarily go for the name. Go for the business – who you want to work around."
Working for a company with a smart, dedicated team and set of values is the biggest draw, Harvey Dawson added.
Family is another key component to her success. Harvey Dawson and her husband moved to the East Coast (she grew up in New Jersey and now lives in Connecticut) so their son could be closer to family.
Harvey Dawson enjoys family bike rides, teaching her son card games, watching him play baseball and soccer and playing the recorder with her third grader.
"No matter where you are now or want to go in your career, it is always necessary to keep your perspective, value learning from others, hold onto your integrity and find ways to keep family and friends engaged in what you are doing," she said. "There are going to be some ups and, if you are pushing yourself, some downs. Learning from all of it and having a support network there with you keeps you moving along and capable of appreciating and tackling the next opportunity."
Having a strong belief in the value of experiential learning opportunities, Harvey Dawson recently created an endowed scholarship for Honors College students who are majoring in the College of Communication Arts and Sciences.