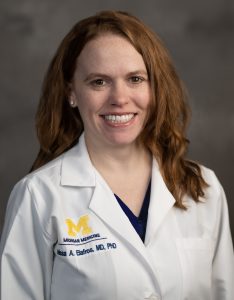 Melissa Elafros' desire to become a physician began early in life.
She always wanted to make a communal impact, and the Honors College at Michigan State University provided her with ample opportunity to do so.
"The Honors College is actually the whole reason I came to MSU," Elafros said. "And, really, opportunities that I had through the Honors College and being able to do extra things during the summer, like research, are what led me down the path of getting my Ph.D."
Elafros spent nearly a decade studying at MSU and received five degrees during her time here. She received dual bachelor's in human biology and Spanish, a master's in bioethics, a doctoral degree in epidemiology, and most recently, a Doctor of Medicine (M.D.) in 2016.
During her time in undergrad, she participated in two study abroad trips: one in Spain, where she learned about Spanish language, culture, and literature, and the other in Mexico, where she actively worked in a hospital learning about medical care.
"My study abroad was through the Honors College, and those experiences really helped me gain a better understanding of how to interact with people that have a different background than me. It's really shaped what I've been able to do today," she said.
A 'passion for working with people'
From the research opportunities she participated in as part of the Honors College's Professorial Assistantship program, Elafros was able to determine her passion for working with people in medicine as opposed to other fields.
"My joy of interacting with people with different life experiences came from studying abroad and my excitement for doing research, particularly in Flint and Zambia, came from my undergraduate research at the HC," she said. "I wanted to not only care for individual patients, but also change trajectories of healthcare systems."
While completing her MD/PhD at MSU, Elafros spent almost three years in Zambia working in an HIV clinic, a neurology clinic, and on her dissertation studying patient experiences with HIV and epilepsy.
Today, Elafros works at University of Michigan as an Assistant Professor of Neurology. Not only does she work with and teach students, but she also cares for patients in clinic and admitted to University of Michigan Health's Ann Arbor hospital. She has ongoing research in Flint at the Hurley Medical Center which is examining undiagnosed neuropathy through the Flint Neuropathy Study, and she has continued her research in Zambia.
Zambia is a low-income country in Sub-Saharan Africa with about 18 million residents.
Elafros explained living there gave her the crucial experience of working in a language that was not her own.
"I ended up being part of a Zambian family — I met people that I now call my sisters, who both helped me understand what I was going through at the time and have continued to support me," Elafros said.
In the future, Elafros plans to continue her research in Flint and Zambia and hopes to bring her now five-month old son to Zambia soon.