Dr. Stanley Idzerda, Founding Director of the Honors College
In Memoriam
Dr. Stanley Idzerda was well-known for doing whatever it took to help students be successful. He opened his home for Sunday brunch, lent students money and helped them find jobs.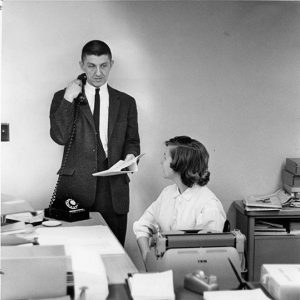 Dr. Stanley Idzerda, who served as the founding director of Michigan State University's Honors College from 1956 to 1965, died in August 2013 at the age of 93.
Born in New York, he joined MSU in 1952 as assistant professor of humanities.
Idzerda was well-known for doing whatever it took to help students be successful. He opened his home for Sunday brunch, lent students money and helped them find jobs.
"He's always been one of my heroes because he's the one who really got the Honors College started," said Bill Kelly, a former colleague of Idzerda's, who served as director of the Honors College from 1968-1969.
Along with former director John Delane Wilson, Kelly said of the Honors College, "They just made it very competitive on the one hand and very attractive on the other. Students really worked hard to get it."
MSU President Lou Anna K. Simon said, "Establishment of the Honors College in 1956 by visionary people such as Stan Idzerda and John Hannah signaled that Michigan State was ready to step out as a world-class university. Stan helped instill that culture of confidence and achievement not just among his students, but into the very fabric of the university."
Idzerda worked with MSU President John Hannah to create the Honors College at a very critical time for the university and the country as a whole. The Vietnam War had begun and the nation was in the midst of the civil rights movement. While these were challenging times, Idzerda never wavered from his commitment to see to it that exceptional students succeeded.
Dr. Paul Rockey, a former Honors College student, said Idzerda took an individual interest in all Honors College students.  Rockey participated in the Alumni Distinguished Scholarship competition, reflecting, "We're all high school seniors and feeling like guinea pigs for two days.
"They selected 12 of us. We called ourselves the dirty dozen in 1962."
Idzerda came to Rockey's graduation down in Jonesville, Mich. to present him with the ADS award.
"He personalized it; he wanted to make sure everybody did succeed," Rockey said. "I started out in these advanced classes I wasn't prepared for; he smoothed a rough start for me. After that, I graduated with my honors and went on to a great medical school."
Marquita Hill met Idzerda as a student in the fall of 1957 after speaking with the vice president's office.
"I was literally a penny-less student, working part-time jobs to support myself," she said.
Idzerda connected Hill with the Alumni Distinguished Scholarship, found her jobs in between quarters to help pay for school and eventually opened his home to her.
"Stan and Geri asked me to come live with them the following year, for some babysitting," Hill said, noting the couple moved out of their bedroom to ensure Hill had enough space to study for her classes.
Hill said the Idzerda was incredibly generous and hospitable.
Charles Butterworth, a former Honors College student, said he always found Idzerda to be, "remarkably inspiring, awe-inspiring" and a man of "Great drive, intellectual warmth, human warmth."
Idzerda's office was filled with books and he would ask students who stopped by whether they had read certain ones, Butterworth reflected. If the student hadn't read a particular book, it would be sent home with the student to be borrowed for a while.
"(Idzerda) wasn't sure how it was going to work (the honors program). He was there to help us make sure that whatever it implied that we benefited from," Butterworth said of the inaugural class. "Here was a man who expected a great deal of his students and showed it by what he had done. He showed no matter where you started didn't matter, it was what you did."
In addition to his time at MSU, Idzerda was a professor of French history and American literature at Western Michigan University, Wesleyan University and Yale University. He served as dean of the College at Wesleyan University before his post as the eighth president of the College of Saint Benedict in Minnesota.
Idzerda earned bachelor's degrees from the University of Notre Dame and Baldwin-Wallace College and received his master's degree and his Ph.D. from Western Reserve University.
In 1962, Idzerda was appointed to the Committee on Advanced Placement of the College Entrance Examination Board, and he served as president of the Society for French Historical Studies. He was a member of the Committee on Teaching of the American Historical Association and was a trustee of the American Society for Aesthetics and Art Criticism.
"Many Honors College alumni credit their successes in life to Dr. Idzerda's commitment to the whole person, which he displayed on top of his keen insight," said Cynthia Jackson-Elmoore, dean of the Honors College. "His students knew that he cared about them and admired how he encouraged them to stretch in their academic pursuits. We are fortunate to have Dr. Idzerda among the great legacies here at MSU and we send our deepest sympathies to his family, friends and students."