60th Anniversary
The MSU Honors College Celebrates 60 years of Pioneering, Innovating and Engaging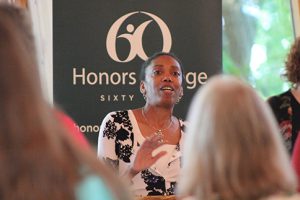 Talent has been and always will be our essential ingredient. We recruit it, foster it, invest in it, recognize it, and turn it to the common good. The Honors College's exceptional, innovative and passionate students and alumni are making a difference in the lives of others every day.
The Honors College has been bringing the best and brightest minds together to inspire new outlooks and challenge one another to achieve more. Ever since its founding in 1956, the MSU Honors College has been a pioneer in honors education, representing the breadth and depth of Michigan State University. The Honors College provides academically talented, committed undergraduate students, with a flexible and enriched academic and social experience that fosters active, innovative learning.
The Honors experiences available to today's students are the catalyst to empower opportunity and create extraordinary impact for a better world. What opportunities and impact can we make over the course of the next 60 years? We hope you will take part in that conversation.
From now until the end of 2017, we are recognizing the 60th Anniversary of the Honors College and hope you will join in as we celebrate the past and re-imagine an Honors College of the future. Watch for an Honors College event coming to your region, or engage with us virtually by using #msuhonors.
Sincerely,
Cynthia Jackson-Elmoore, PhD
Dean and Professor
Honors College