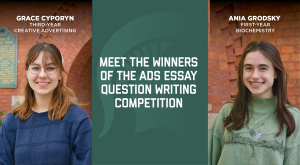 By Sloane Barlow
This past fall, nearly 80 Honors College students submitted prompts to be used for this year's Alumni Distinguished Scholarship (ADS) essays for high school seniors competing from around the country. Out of all the prompts submitted, two were chosen by blind review by a committee, and the winners were each awarded a $500 scholarship.  
Recently, more than 1,000 high school seniors who are potential Honors students wrote their short essays for ADS 2023 using the winning prompts. 
"The questions are helping us find students with the qualities we are seeking in Honors students at MSU, including passion, creativity, openness, and resilience. The essays are used as the start of the scholarship competition, which also includes consideration of the MSU application, a general knowledge test, and interviews with the finalists," said Bess German, assistant dean of the Honors College.  
The first winner is Grace Cyporyn, a third-year Honors student originally from Highland, Michigan. A creative advertising major with a minor in graphic design, Cyporyn stumbled across this scholarship opportunity in the Honors College e-newsletter. She said the challenge got her thinking of her personal experiences and how much the Honors College has been helpful in her Michigan State education.   
"I wanted to do something that would have people admit a weakness instead of playing to their strengths – and how they would address that," Cyporyn explained. "Because I feel like, especially within the Honors College and Michigan State in general, my beliefs are constantly changing, and I'm learning new information all the time. I thought it would be interesting to pose a question that stimulates that feeling." 
Her prompt was selected amongst others for its uniquely thoughtful and intriguing nature: "Describe a moment where a belief you hold or held was challenged, either by another person or exposure to new information or insight. How did you feel and what did you learn?" (Cyporyn).   
The second winner is Ania Grodsky, a first-year Honors student from Columbia, Maryland, studying biochemistry. Grodsky participated in ADS in 2022 and was excited to continue her involvement when she heard about the opportunity to write the essay prompt.   
Inspired by many casual, philosophical conversations with her father while walking their dog, Grodsky created a prompt that took ADS participants by surprise: "Oh no! Tonight's TED talk speaker just got horribly sick, and someone needs to replace them. You step up for the job. You need to be able to speak for 15 minutes about anything – it doesn't have to be the latest research in quantum physics, just something about which you are passionate. Provide us with an overview of your speech." (Grodsky). 
"If I got this question for my ADS essay, I definitely would have had a lot to say," Grodsky added with a laugh.  
She explained her experience taking the ADS exam virtually last year as an out-of-state student, "A little practical advice, just have fun with the test because it's not something you can really prepare for. It's almost like a game— if you go in with that mentality, it's not that scary." 
To all the high school students who have received invitations to join the Honors College, both Cyporyn and Grodsky wish to share advice:   
"I know a lot of people are hesitant to join the Honors College because they are worried about the workload," Grodsky admitted. "But many of the projects that I've done for Honors Options have become a really great opportunity for me to get to know my professors better. I feel like the harder the Honors Option, the more benefits you get out of it." 
"The Honors College is worth joining if you're looking to make the most of your time here at Michigan State," Cyporyn said. "It's there for you if you want to push yourself even further, broaden your views, and remind yourself to learn all that you can."