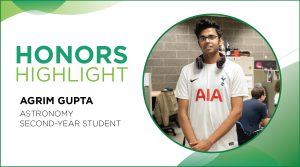 Second-year Honors student Agrim Gupta discovered his passion for astronomy in sixth grade when he joined his school's astronomy club organized by SPACE India.
"We got to know a lot about astronomy, comets, asteroids, and eventually, we went to this space camp and observed the night sky and constellations, and observed the moon with telescopes," he said. "That's when I realized I want to do this — I want to reach for the stars."
Before joining the MSU Honors College, Gupta participated in HC IMPACT, the Honors College's annual week-long service program in partnership with the great Lansing community.
Now, Gupta, from New Delhi, India, is doing everything he can to make his dreams come true.
He serves as a mentor for H-STAR, a member of the Astronomy Club of MSU and the Society of Physics Students, fundraising chair for the Undergraduate International Indian Student Association, and historian for MSU's Tower Guard.
He is also a professorial assistant under Megan Donahue, Ph.D., and has worked on locating the brightest cluster galaxy in a cluster of galaxies.
His favorite part about the Honors College is the close-knit community and connections.
It's amazing meeting people from all over the world, getting to know them and their experiences," he said. "This has really helped shape me as a person and progressed my academic development as well."
In the future, Gupta hopes to be a professor, which is why he has also been working as an undergraduate learning assistant since September.
"Getting to know various professors, seeing what they do and how they teach their classes will be really helpful in my future career and decisions," he said.
Gupta advises incoming students to get out of their comfort zone and try joining different clubs and organizations.
"And if you're a astrophysics major, I highly recommend joining the Astronomy club," he said. "You get to meet people who have been doing research and studying astrophysics for more time than you, and they teach you how to be successful in classes and research."