Wielenga Research Scholars Program
New ideas are subject to a competitive process that eliminates those that are less fit or less desirable. Those that survive are 'designs' that become the basis for new ideas in a continuing process of creation. This process results in higher functionality and more complexity. This applies to almost all fields of endeavor and to life itself.
Due to the generous support of Honors College alumnus Thomas Wielenga '78 and his wife Sue, the college is launching a research scholars program in his name. The program will provide funding to 2nd-year Honors College students seeking a research opportunity to expand their learning beyond the classroom under the mentorship of MSU's illustrious faculty.
Building on the Honors College's commitment to encourage students to engage in research as a means of deepening their education and applying their learning to current real-world problems, a cohort of 15-20 Wielenga Scholars has been selected each year since 2019. In addition to completing a research assistantship, the cohort of scholars engage in multiple meetings throughout the year to learn from each other's work and reflect on the process of innovation as it relates to the science of creativity.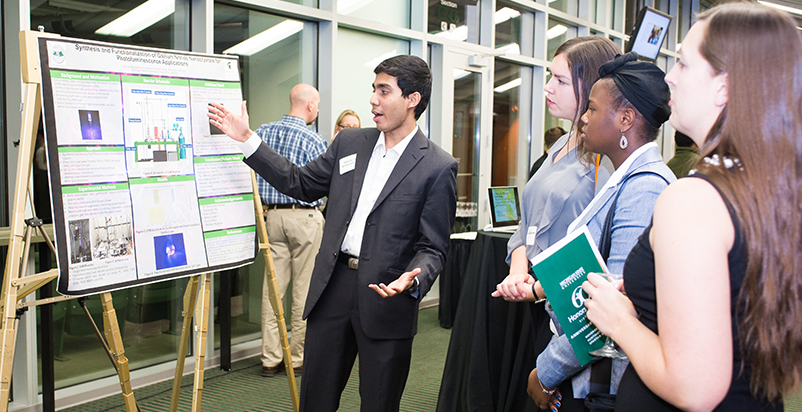 More Information about Thomas Wielenga 
Wielenga is a 1978 Honors College graduate in mechanical engineering. After MSU, he received a master's degree in computer-aided design and a doctorate in mechanical engineering at the University of Michigan. For the next 12 years, he worked for his thesis adviser, Milton Chase, founder of Mechanical Dynamics Inc. There, he was one of the developers of the mechanical simulation program, ADAMS, which is used extensively to simulate mechanical systems, including cars and trucks.
Wielenga then worked as a consultant and expert in the field of vehicle dynamics and accident reconstruction. He used the ADAMS mechanical simulation program to accurately model the dynamics of vehicles rolling over during vehicle crashes.
Faced with these many tragedies, Wielenga said he thought of a way to prevent these accidents by activating the brakes in a certain way. He patented the technology in 1998 and licensed it to braking suppliers and automotive companies. His anti-rollover braking system is now on most sports utility vehicles. Today, the technology saves around 1,000 lives a year.
Photo and biography credit: MSU College of Engineering