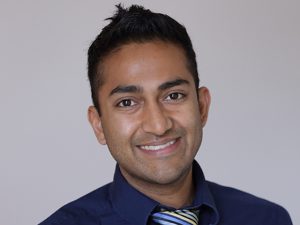 Doctors have to make a lot of important decisions every day. They recommend a certain type of hormone therapy for patients, a costly treatment cycle for breast cancer, or even recommend withholding certain drugs.
Vinay Prasad studies the evidence behind what doctors recommend.
"Doctors make a lot of decisions, and some of those surely help patients, other decisions are based on weak evidence, and some recommendations run counter to the best studies," said Prasad, '05. "I study the big picture of why the health care field works the way it does and how so many of us can fall prey to biases."
Prasad is the chief oncology fellow for the National Institutes of Health/National Cancer Institute.
He graduated from Michigan State University with degrees from the College of Arts and Letters (philosophy) and College of Natural Science (physiology) before moving on to the University of Chicago for his medical degree and Johns Hopkins University for a master's in public health.
He credits his dual degrees at MSU with helping prepare him for his role at the NIH.
"I'm a medical oncologist who does research on policy and the evidence base of medicine. What I do directly follows from the classes I took in college," he said. "Studying the sciences and philosophy was the ideal preparation for what I do today."
Prasad said he was first drawn to the Honors College because of the flexibility to take classes in different fields and because he was able to get started on research early on.
He was the recipient of an Alumni Distinguished Scholarship and a professorial assistant.
"I met some of my closest friends in the Honors College and MSU, and we have stayed in touch over the years," he said. "But, beyond this the experiences I remember most from MSU were the study abroad opportunities. I went to Nicaragua with Dr. (Gerald) Urquhart, and I spent a summer in Costa Rica taking a class from Dr. Fred Gifford. Both of these courses changed the way I think, and have stayed with me."
Prasad also credits Bess German, now the assistant dean for the Honors College, with helping him during his time at MSU.
"(She) was a trusted adviser for most of my college, and I still appreciate all the help she gave me."
Prasad has been published more than 65 times and has interviewed with U.S. and international media regarding his work deciphering whether what doctors do is good, bad, or useless.
"Through the Honors College, I met a lot of interesting people," he said. "I had dinner with Dr. Brian Greene, the theoretical physicist. I had lunch with Norman Borlaug, the Nobel Laureate. And, during my senior year, I met Maya Angelou when she was our commencement speaker."
This article was originally published in HConnections 2014.