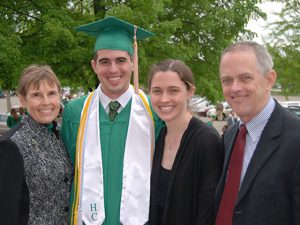 Chuck Stavoe and his wife, Laurie Horiszny, reflect fondly on their years at MSU, but when asked whether their Honors College experience differed from that of their children, Andrea and Ross, the answer was an affirmative yes.
"When we came to Michigan State, we were automatically granted the initial (entrance) into the Honors College," said Chuck, who was valedictorian of his high school class while Laurie, a 1977 alumna, was salutatorian for her high school class.
The Honors College for Chuck and Laurie was limited to honors classes, said Chuck, a 1976 alumnus.
"We didn't have the option of making a non-honors class into an honors class. Now it's quite encompassing. Students can take a whole lot of classes by expanding the academic rigor," he said. "The way it is now…people are very aware of (the Honors College) before they get to Michigan State but when I was coming into Michigan State it was very low-key."
Chuck said the transformation of the Honors College made Michigan State "a more selective school."
Andrea Stavoe, a 2008 alumna, said she was weighing going to Northwestern University outside of Chicago over MSU because that's where the family was living at the time.
"My parents were always talking about how much they loved their time there (at MSU) and how nice it would be to carry on the tradition," she said, recalling vague memories of MSU hockey and football games taken in as a child. "I wasn't familiar with campus until I got there."
Eventually, she was swayed to head to East Lansing.
For Ross Stavoe, a 2012 alumnus, the choice was clearer.
"The Honors College is what made me come to Michigan State…the opportunities it afforded its members," he said.
While both were Honors College students, Laurie and Chuck didn't actually meet at MSU. Instead they met in Jackson, Michigan, after both had finished their respective law schools and were working in the private sector.
As a parent, it's comforting to know your children are in the same environment you've experienced, Laurie said.
"It was wonderful to be on campus with them when they were in school," Laurie added. "We don't miss a trip to the dairy."
Chuck said the hands-on opportunities afforded to Andrea and Ross made an impression on him as a parent and alumnus.
"These new opportunities, they have are just fabulous," Chuck said. "First week (Andrea) was there she started working with professors at a research lab. All four years she was there doing stuff, and this is what the Honors College means now, that it didn't mean then. You can be hands-on, learning, doing things so intimate and necessary to your career…those are things you can't buy. They are truly priceless."
Ross, who is in the finance leadership development training program for GE Aviation now, said the flexibility of the Honors College appealed to him.
"You can design your own curriculum and have more of an opportunity to be a double major or (achieve) what you want to accomplish in terms of your academic goals," said Ross, who majored in supply chain management and psychology. "Having ownership of your career path within the Honors College and Michigan State is definitely helpful when you're out in the real world and you're determining your own path."
Andrea, who majored in biochemistry, molecular biology, and biotechnology and is now in graduate school at Yale University, said she expected her experience as a science student to be different than her parents, who were both in the business school. But the ability to engage and interact with professors is something that appears to have continued throughout the generations of Honors College students.
"The honors professors took it very seriously, creating the additional rigor," Chuck said. "They were noticeably more in-depth and challenging classes. Professors were engaging with students both inside of lecture and outside of lecture."
Both Andrea and Ross worked as professorial assistants. Members of the family also participated in various student organizations, including H-STAR (Honors Students Actively Recruiting).
"We're very pleased and proud both of them did so well at MSU and launched into their different interests," Laurie said.
Besides shared MSU appreciation, the family also enjoys scuba diving around the world. Chuck runs Motor City Scuba and Snorkel in Novi, Michigan, and serves on the Honors College Alumni Association Executive Board; Laurie is an attorney.
This article was originally published in HConnections 2013.