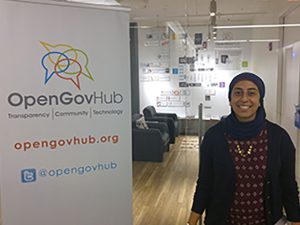 It began for Nada Zohdy ('11) at Michigan State University when she worked with people from different ethnic and religious backgrounds to form the Peace Over Prejudice campaign.
"I spent more time student organizing than I did studying," she said. "There was a lot of bigotry faced by minority groups. It was the extreme opposite of the campus environment I wanted and so many others wanted. That extreme environment propelled my activism."
That experience eventually led to co-founding the Campus Interfaith Council, which continues today. But the burgeoning of her passion for civic engagement truly took hold after she moved to Egypt to live for a year as part of MSU's former Arabic Language Flagship Program. Halfway through her stay, the Arab Spring erupted and Zohdy, an Egyptian-American, saw history play out before her eyes.
"We were there for the first week of protests," she said. "It was amazing to see history being made. You could feel it in the air."
While she and the other students eventually had to re-locate to Morocco to finish out the program, Zohdy had gained experience working with an Egyptian non-governmental organization (NGO). When she returned to the United States, she found a job with the Project on Middle East Democracy.
"A big part of my job was translating and helping local Arab activists (understand) how U.S. foreign policy was being made toward their country and translating and sharing the experience of local partners to colleagues in Washington, (D.C.)," Zohdy said. "I learned more than I could even describe."
Two months into her post, Zohdy went back to Egypt to meet with more NGOs. She visited Tahrir Square and was sprayed with tear gas. It was a profound experience – one she only shared with her mother after the fact – but working with people living in the conflict took its toll and Zohdy found herself burned out heading into 2013.
Having previously earned a Truman Scholarship for her civic engagement efforts at MSU and commitment to public service, Zohdy then began to attend Harvard University's Kennedy School of Government. While pursuing her master's degree in public policy, Zohdy focused on democracy and governance, as well as social innovation. She describes that as, "thinking about how to create healthy organizations working for social change so they can do things more efficiently and effectively."
Zohdy returned to Washington, D.C., and for more than a year she has managed OpenGov Hub, which is a coworking space and network of 40 NGOs promoting more transparency and accountability all around the world.
"There are real challenges to promoting democracy in the Middle East these days," she said. "I wanted to take a step back…and get a global perspective."
The NGOs work in approximately 70 different countries and Zohdy hopes the experience will provide her with lessons she can eventually apply locally and to the region she cares the most about.
Since the five years since she left MSU, Zohdy said, "I've been able to definitely work on the issues I'm most passionate about."