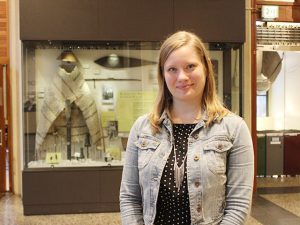 With the tooth from a Tyrannosaurus rex in hand, Honors College alumna Melissa Bailey ('01) was walking down the halls of the Washington State Legislature in January, working to solidify support for the state's oldest public museum.
Bailey is the government relations director for the Burke Museum of Natural History and Culture, which houses the first dinosaur fossil found in the state of Washington along with more than 16 million other objects. In that role, she's worked with a team to marshal $99 million in funding toward construction of a new museum located on the campus of the University of Washington.
"There's a lot of pressure on our state budget, but we've worked hard to help lawmakers understand the value of the museum and why state support is crucial," she said.
Construction of the new museum began in the spring of 2016 and is expected to be complete by 2019.
Bailey didn't expect to land in Seattle, where the 132-year-old museum is located – it's one of those life is not a straight line situations.
"My parents didn't go to college; I actually almost didn't go to college," she said. "I didn't think that I was smart enough."
As a first generation college student, Bailey said she could have gotten lost in the shuffle had it not been for the Honors College and the additional set of advisers in her two undergraduate degree programs, social work and interdisciplinary studies in social science.
"I needed people to help me understand what was possible and guide me through process," Bailey said.
After graduation, Bailey had a full-ride to Case Western Reserve University, but took advice from professors and spent a year as an AmeriCorps volunteer in Seattle. She volunteered and then ultimately worked for Hate Free Zone Washington (now OneAmerica), an immigrant and civil rights organization.
Bailey eventually decided to go back to school, earning a master's degree in social work from the University of Washington. There she focused on public policy, a passion she discovered while interning in Washington, D.C. during her undergraduate studies. She has worked at the Washington State Legislature and the Children's Alliance, a statewide child advocacy organization.
Reflecting on her time at MSU, Bailey remembered participating in alternative spring break and having the sense that being a Spartan meant giving back.
"I always say I'm a Spartan first," she said. "It meant the world to me to be a part of an institution with a strong commitment to service, sharing knowledge and that valued everyone's voice. I've carried those tenets with me throughout my career."