By: Clare Wismer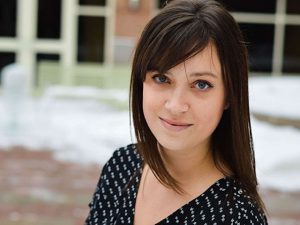 Picture the first time you ever opened a Harry Potter book. Feelings of being captivated by adventure on each page, not being able to put it down and an intense desire to know what will happen next are common when reading this engaging series. Fans everywhere revel in the ability to escape to a different world full of magic, adventure and friendship from the comfort of their own homes. One of these fans includes Jill Kolongowski, a 2009 MSU Honors College graduate. Where most people approach the series from a lens of curiosity and "pure love" as she puts it, Kolongowski got the chance to reread the series with a more critical eye, identifying themes that one would not normally expect to find in a children's series.
Throughout her book, which is a collection of essays titled, "Life Lessons Harry Potter Taught Me," she discusses themes in the beloved series that are still relevant in our world today, such as sexism, racism, bigotry, oppression, prejudice, power and more. She also highlights more positive themes found in the books, such as happiness, love, laughter, heroes and standing up for what is right. By analyzing these themes, she not only learned more about the world, but also herself and how the themes affect her.
It took Kolongowski about seven months total to write her book, and though the process was demanding and time consuming, she enjoyed revisiting the series and called it "a joy" to analyze the books from a different lens.
"I hope that when people read the book, they will enjoy it, want to add to it or disagree with it and maybe even have different takeaways than I did, because that is what reading is."
Along with being a writer, Kolongowski is an assistant professor at San Mateo College in California and an editor at YesYes Books. She has her MFA in creative writing from Saint Mary's College of California.
Kolongowski was a double major in English and Spanish with a concentration in creative writing at MSU. She believes her unique experiences and opportunities in the Honors College provided her many opportunities to grow and find her voice. As an Honors student, she was able to take a graduate-level class that permitted her to submit work to the Association of Writers and Writing Programs (AWP) Conference twice, which was rare for someone her age.
"Taking that class and submitting work to the AWP Conference gave me confidence that I belong in the field and could make it as a writer," she said.
Along with sharing her own takeaways from Harry Potter, Kolongowski also had some takeaways about her time in the Honors College and shared some advice for current Honors students. She recommended getting involved and saying yes to every opportunity, even if it means more work. She also suggested making real connections; building meaningful relationships with peers can go a long way and she still remains close to friends made on campus. Finally, she emphasized the importance of taking a break sometimes, mentally and physically.
As an Honors student, Kolongowski enjoyed the one-on-one time with professors and camaraderie with other Honors students in her major. She believes the Honors College set her on track to explore career paths that were interesting to her and provided her the tools and confidence she needed to be successful in her career and beyond.