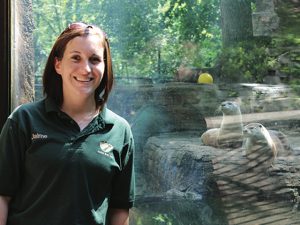 As a child, the John Ball Zoo was one of Jaime Racalla's ('10) favorite places.
She volunteered there as a teenager. Then as a student at Michigan State University, she pursued a degree in zoology from Lyman Briggs College. During summer breaks, Racalla, a Grand Rapids-native, worked for the zoo and eventually became an intern the summer after she graduated with her degree.
Then a serendipitous moment occurred.
The zoo was going through its reaccreditation and was required to hire an additional full-time zookeeper to meet safety standards. Racalla was picked for the post.
Racalla says no two days are ever the same working at the zoo.
"That's what I love so much about it," she said.
During her first year at the zoo, Racalla was nicknamed "mamma flamingo" as she raised a new flock of the wading bird.
Birds continue to be one of her favorite with which to work, but as head trainer of the otters, her loyalty has shifted in their direction.
In her role as animal care supervisor, Racalla says she works on everything from prepping habitats, administering medication, feeding the animals, conducting animal training and enrichment programming.
The team she oversees is responsible for lions, tigers, animals in the aquarium, and all North American species.
Racalla said the exposure to science classes, and being able as an Honors College student to take more science-oriented classes to meet her general education requirements, set her up for success in her career.
During her time at MSU, Racalla worked as a teaching assistant and was a member of the Zoological Student Association.
A flautist by training, Racalla said she couldn't be in the Spartan Marching Band, but enjoyed the band through her now-husband Mark, who was a member of the drumline.
"That sense of community is mostly what I got out of being a Spartan," she said.
This article was originally published in HConnections 2017.