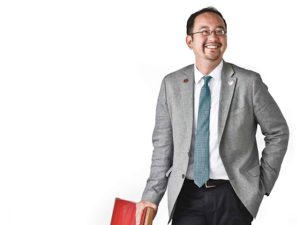 Henry Ng was in the middle of medical school when he decided to take a year off to work for the American Medical Student Association.
The Honors College alumnus graduated in 1996 with his biochemistry degree from the College of Natural Science and was in good standing in the College of Human Medicine. In fact, he had been accepted into the college without having to take the MCAT as one of only 10 students in the early admission-based Medical Scholars Program.
"I had this plan and desire to go into medical school," he said.
Ng's decision then to pause his medical school education raised the eyebrows of a lot of his classmates and professors – but it ultimately connected him with his health care mission.
"That was one of the first times I got a view into the many diverse views in health care, looking at people of color, women, LGBT…that left a very lasting impression on me," he said. "I began to see the bigger picture."
As director of member initiatives for the association, Ng worked with medical students on their interests and connected them with various advocacy groups.
Ng then moved back to Michigan to finish his clinical rounds in Saginaw, working with underserved populations. He was then matched with the internal medicine/pediatrics program at MetroHealth Medical Center in Cleveland, Ohio.
Every resident is required to give a "grand rounds" talk before graduation and Ng was contemplating what his topic would be.
"It was during my residency I was able to reconnect some of the interests I had in medical school with issues of diversity and underserved people," he said. "I gave a talk on LGBT health through the lifecycle. It was important to me as a gay man in medicine."
Mentors at the hospital told him, "no one (has) really talked about that topic…basically ever," but once Ng was done, the talk was well received.
Ng became chief resident in 2005, and every year has given a version of that talk. As others heard about it, he's been asked to visit more hospitals to speak. By 2007 it's wasn't just talk anymore.
Ng was working full-time and going to school for his master's degree in public health part-time. The hospital paid for his schooling by assigning him wherever there was a need.
He worked with many adults and children with special needs and it was during this time that he realized there should be clinical care for LGBT patients. He assembled some data and put together a business plan for the hospital to create the Clinical Service for Pride (now PRIDE Clinic) – Ohio's only clinic for Lesbian, Gay, Bisexual and Transgender (LGBT) patients.
"There's not a lot of us doing this work in Ohio, unfortunately," Ng. said. "(We're) drawing people from other places."
Ng is now president of the board for GLMA: Health Professionals Advancing LGBT Equality and director of internal medicine/pediatrics for MetroHealth.
He's closely following the impact to health care following this year's U.S. Supreme Court ruling granting marriage protection to same-sex couples.
"It's going to change to some degree who is uninsured in this country (or underinsured) because they weren't able to get domestic partner benefits (or spousal benefits)," Ng said.
But cultural competency training and education for health care providers is "still lagging," he added. Ng credits MSU for encouraging him and other students to focus on health and humanities coursework.
Most of the classes he took in this specialization were Honors courses, he added.
"Those courses were important for me to understand there was a broad influence in health care," he said. "It's about taking care of people in all of their dimensions, with their family, where they live, work and play."
Ng also got involved with the hospital's mobile care program, which drives a van to area high schools so doctors can conduct sports physicals; talk about issues like depression, sexuality and sexually-transmitted diseases; and test patients who think they may be pregnant.
Ng says most of his time is spent in clinical care, but about a third of his time is also spent researching and teaching.
"This is the kind of practice I wanted to have," he said.
This article was originally published in HConnections 2015.