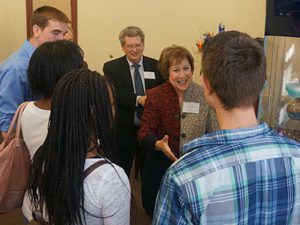 After receiving a full-ride scholarship to MSU, Gwen (nee Victor) Paulson, '66, had hoped one day she'd be able to fund a four-year scholarship for others.
"Now, you know I thought it was a pipe dream in my 30s and 40s and (it) wasn't going to happen," she said. "Fortunately, I was very successful in government relations consulting, and as a result I've been able to realize the dream that I had walking around Michigan State."
But Paulson didn't stop there. Along with husband Jerry, Gwen Paulson donated more than 25 pieces of glass and wood artwork to the Honors College. The displays of contemporary craft in Eustace-Cole Hall were unveiled during a reception for the Paulsons in April.
"I did a lot of studying in the Honors College lounge. At that time it was in the Library, and it was a lovely room, but it was pretty sterile," Gwen Paulson said. "I thought, 'Wouldn't it be nice to introduce college kids to contemporary craft, because museums are just beginning to incorporate contemporary American craft."
The donation is the first of its kind for the Honors College.
"We are immensely grateful to Gwen and Jerry for sharing their passion for art with the students of the Honors College and the community at large," said Cynthia Jackson-Elmoore, dean of the Honors College. "As our building is steps away from the Broad Art Museum, we welcome the public to view the fine glass and wood pieces in our student lounge."
Gwen Paulson is originally from Detroit, Michigan—just down the road from the birthplace of contemporary American craft in Toledo, Ohio. Jerry Paulson was already collecting craft artwork in the late 1970s before he met Gwen.
The couple joke that Jerry inherited Gwen's two daughters and Gwen inherited Jerry's art collection.
"And I got the better end of the deal," Jerry Paulson said.
The artwork on display at the Honors College is a mix of Jerry's first pieces and items they've collected as a couple over the years.
"Everything in our entire collection is one of a kind and we've either commissioned it, or bought it that way," said Gwen Paulson.
The couple's personal collection marks important birthdays and anniversaries and reflects the couple's travels as well, with pieces from artists around the globe. Jerry Paulson said the collection has been a focal point for family, friends, and other visitors to the couple's home in Alexandria, Virginia.
"We are extremely proud and very happy to have this work in a place where other people can enjoy it," Jerry Paulson said of some of the collection finding a home in the Honors College lounge. "(We hope it will) bring some pleasure to their lives as it has brought pleasure to our lives."
Gwen Paulson graduated with a bachelor's degree in history. She later received her master's degree from Wayne State University and was a doctoral candidate in history at the University of Michigan.
As a congressional professional staff member, Gwen Paulson worked on Medicare and private health insurance legislation, including COBRA health insurance, and later opened her own health care government relations company.
After working in Washington, D.C., for many years, she is now a professional certified career and leadership coach.
Jerry Paulson graduated from Duke University with a medical degree and is a pediatrician, children's environmental health advocate, and has dual full professor status in the George Washington University School of Public Health and School of Medicine. Jerry Paulson received his undergraduate degree with honors and with general honors from the University of Maryland, College Park.
Attending land-grant institutions was transformative for the couple, Jerry Paulson said.
"If people hadn't had that forethought, then we wouldn't have been able to achieve what we've been able to achieve," he said.
This article was originally published in HConnections 2014.