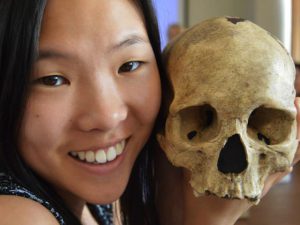 Mummies, bones and human remains were never the side of anthropology Honors College senior Elaine Chu had envisioned for herself — not until seeing them in person.
As a Mowbray Scholar through the Honors College, Chu traveled to London, England for a six-week program in human identification and forensic anthropology this past summer. Although she was not very familiar with forensic anthropology, Chu was excited to expand her understanding of the field.
At the National History Museum, she went behind the scenes to see a room of live mummies being used for research purposes.
"Seeing the mummies and learning about the things being done with them — that's really when I realized how much I would love to do something similar in the future," Chu said.
She shadowed professionals in the forensics field, visited sites and got a taste of what a forensic anthropologist does every day.
"We studied the identification of human remains, looking at things such as gender, ancestry and age," Chu said. "We also studied pathology and examining causes of death."
She hopes to continue her education in forensic anthropology by working in Dr. Todd Fenton's lab analyzing cases in conjunction with Sparrow Hospital and the FBI. Fenton, who accompanied Chu and other students to London, is the primary forensic anthropologist at MSU.
Chu is also looking into studying forensics in graduate school. Her future studies and career prospects will also include cultural anthropology, which was the part of anthropology she first discovered in high school while on a research team.
"At least for the first 10 years of my post-grad career, I would love to work with refugees in refugee camps abroad," she said. "I also really want to hold onto my forensics, so I would love to also accompany on expeditions for mass graves, identify human remains and return them to family members. That's a dream job for me."
When telling her family about her new career prospects, Chu says they were more surprised than she was.
"My family was shocked I wanted to work with dead people," Chu said. "Asian culture fears death, and it wasn't't something they ever saw me doing, but they've always been very supportive of me — now they're just as excited as I am."