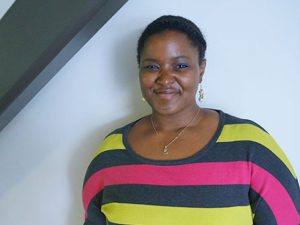 For Danielle Grace, visiting Japan was not just one more thing to cross off her bucket list – it was a cross-cultural experience that broadened her career scope and expanded her love of language.
Grace, a junior in the James Madison College at Michigan State University, traveled to Japan as a Mowbray Scholar through the Honors College. The scholarship funds an upperclassman's international study in two unique terms. With a minor in Japanese (in addition to her comparative culture and politics major and French secondary major), Grace chose to visit Japan for her first term to get a taste of a place she'd like to live someday.
"Being there really opened my eyes to the culture and way of life I had never known before," she said.
She took part in the Summer Intensive Language & Culture Program at the Japan Center for Michigan Universities. Her experience, she said, was a mix of education, culture and community, which is exactly why she was drawn to apply for Mowbray in the first place.
"Mowbray is about diversity, cross-cultural interactions and understanding and international experiences, which interested me," Grace said.
Originally from Auburn Hills, Michigan, Grace says she would have found a way to study abroad without the scholarship, but financially it helped her (and her mom) a lot.
She describes Mowbray as a type of "community." Past and current scholars, as well as faculty and staff, meet regularly, and Grace can always count on them for support.
"We'll talk about classes and deciding majors and where to go from our Mowbray experience," Grace said. "Having this network freshman year was great because I didn't't know anyone, but continuing to be a part of it and getting to know everyone involved is even better."
Grace describes herself as a "lover of language" and is always looking for opportunities to learn about other cultures and evolve her communication skills.
"[As a member of the James Madison College], learning how to communicate has been a plus for me, especially because I'm kind of shy. I was never one to start conversations or always share what I'm thinking. Having class-led discussions has been extremely beneficial in helping me come out of my shell."
She also appreciates how well her education plan has molded together, an overall experience she feels is "enriching."
"My major has a lot to do with culture, identity, power and how people define themselves in relation to others in their own community," Grace said. "Language has a lot to do with understanding how people communicate and how people think of themselves, so that ties nicely into my major because that's pretty much all we talk about – how people see the world around them and how people identify themselves."
This also tied into an internship Grace completed at the Refugee Development Center in Lansing. There she learned how to communicate and connect with people despite language barriers.
"The biggest thing my internship taught me was that people are just people, and you don't need to be afraid of interacting with people with whom you think you have nothing in common," Grace said.
Although Grace is still contemplating her career path, she sees multiple options in the distance.
"I haven't really decided 'I want to be this' or 'I want to be that,'" Grace said. "Interpreting and translation is always an option for me, but I've always wanted to try working in an NGO (non-governmental organization) having to do with human rights or activist education.
"Lately I've been thinking about applying to work for TED. They seem to be really interested in helping people think differently about the way they live and conceptualize all different topics, including relationships and communication. Their motto is 'Ideas worth sharing' – I think that applies to me perfectly."
Grace is currently volunteering at the Capital Area Humane Society and a member of Asian-Christian Intervarsity at MSU. She is planning on studying abroad in France this summer as the second term of her Mowbray Scholarship.