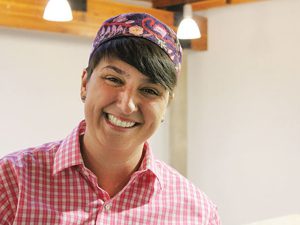 As a student at Michigan State University, Dana Benson ('10) performed in several theater productions, but one role stood out.
She played a character based on a real-life person living in the Lansing area. This person identified as queer and was raised by a father who was a rabbi and a mother who was helping to desegregate the school system while battling an illness.
Benson was in the middle of re-connecting with her Judaism at the time. In addition to acting, she was participating in social justice programs, serving as a resident assistant and taking the students on her floor to MSU Hillel programs.
As she performed one night, the parents of the character she was playing were in the audience looking on.
"For me that was one of those moments where school and life and theater…everything transcended for a
moment," she said.
After graduating from MSU with a degree in communications, Benson decided to pursue her rabbinic ordination.
"I realized I kind of wanted to be a role model to students and younger individuals who didn't have the rabbi or the leader to kind of show them what it looked like to be a queer religious individual," she said. "I wanted to figure out what it looked like to be a different kind of rabbi."
She attended the Hebrew Union College – Jewish Institute of Religion in Cincinnati, Ohio and spent a year in Israel as part of her education.
After ordination, Benson returned to MSU and worked as a senior Jewish educator for MSU Hillel. She currently serves as rabbi and assistant director of Hillel at the University of Washington in Seattle.
Benson said she continues to learn every day, something she picked up as a student in the Honors College.
"College isn't just about what you're actually gaining from the classes — it's who you are building relationships with and how you are understanding, how you learn and how you grow. For me, having those small intimate class sizes through the Honors College was invaluable," she said.
This article was originally published in HConnections 2017.