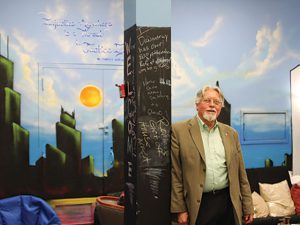 Bruce Bonecutter ('71) arrives at the Cook County Juvenile Detention Center every day to check to see which of the 300 youth at the facility are facing a crisis.
Bonecutter's official title is director of psychological services for the Isaac Ray Center, located inside the detention facility. He and his staff help "smart kids who have been hurt horribly," as Bonecutter puts it.
"Hurt people end up hurting other people," he said.
About one-third of the juveniles in the detention center have been locked up for minor crimes, such as stealing food or diapers or selling drugs to, in part, put money into the family budget to help their family.
Another one-third face heavier charges related to drugs or violence and another one-third face charges that will send them to prison as an adult if convicted.
"I've always been around public health and adolescents," Bonecutter said. "It feels good to do good for people in need and double check that what you are doing is from the people. It is vital to listen to those you are seeking to help."
Advocacy comes naturally to Bonecutter.
While he was a farm kid from Michigan, Bonecutter's parents made sure he was taught about discrimination and how Jim Crow laws of that era affected people of color.
When he came to Michigan State University, he participated in Inter-Varsity Christian Fellowship and Students for a Democratic Society.
One of the greatest parts about MSU is its diversity, Bonecutter said, adding he looked for experiences that put him out of his comfort zone.
"Try to listen to the diversity," he said is his advice to Honors College students.
After graduating from MSU with dual degrees in anthropology and psychology, Bonecutter earned a doctorate in clinical and community psychology from the Illinois Institute of Technology.
He worked for 10 years as chief of psychology at Cook County Hospital, and for 25 years in other public health psychology positions, before transitioning to his work at the juvenile detention center.
In addition, Bonecutter is on the board of the Lawndale Christian Legal Center. The center provides
classroom and gymnasium space, after-school tutoring, case managers, a jobs program and legal services to approximately 1,000 youth in the Lawndale neighborhood.
This article was originally published in HConnections 2017.