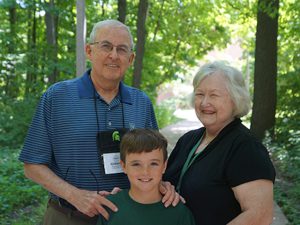 Beryl (Benschop) Johnson (′64) and husband Edward spent their 49th anniversary at the same place they had their first kiss—Michigan State University.
The two traveled to East Lansing in late June to participate in Grandparents University with their eldest grandson, Charlie.
While Charlie wowed his grandparents with his computer skills during a programming class, Beryl Johnson impressed her grandson with how fast she typed for the newspaper journalism class. Beryl said the class was a far cry from the days she had to learn typesetting.
In between the engineering and a cultural engagement classes, the Johnsons showed Charlie where "Grammy" and "Poppy" lived on campus while they dated, Van Hoosen and Owen halls, respectively, and where they lived during their first year of marriage, Spartan Village.
They also showed Charlie where they had their first kiss—Beaumont Tower— but the nine year-old, unsurprisingly, was not interested in the kissing part.
The couple said they were most amazed at the growth of campus, but added it has maintained its beauty.
"It's still a gorgeous campus," she said.
Beryl Johnson fondly remembered walks along the Red Cedar River to and from class, and Edward Johnson recalled finishing his doctorate and teaching business classes in the Eppley Center.
They strolled by Cowles House and Beryl Johnson told her grandson how she was invited to a reception for the 50 outstanding senior women by President John Hannah. Charlie had his eyes on an MSU jacket as a souvenir of the trip.
Grandparents University began in 2006 as a program for alumni and grandchildren aged 8-12. Families stay in a residence hall for three days while attending classes and visiting different parts of campus. More than 1,000 people participated in this year's Grandparents University.
This is the first year the Johnsons participated, flying from Florida with a stop-over in California to pick up Charlie. They visited with family in Holland before the trip to East Lansing, and then were headed up north for a bit.
Traveling is a passion for the Johnsons and was the reason they established a scholarship for Honors College students studying abroad.
Beryl Johnson took a French class in Switzerland while a student at MSU, and the Johnsons have led student trips abroad while Edward worked as faculty for the University of North Florida.
The John A. and Irma L. Benschop International Award, which is offered to members of the Honors College studying abroad, is made possible by a donation from the Johnsons.
The Johnsons hope the trip nudges Charlie to enroll at MSU down the road, but either way the experience was worthwhile.
"This was just an extra special bonding experience," Beryl Johnson said.
This article was originally published in HConnections 2014.