By Sloane Barlow
Picture yourself on safari, amongst some of the most fascinating creatures on the planet. Imagine learning about zoology through hands-on research in the field. It is the opportunity of a lifetime.
Third-year student at Michigan State and in the Honors College, Kayla Fowler spent her spring semester living that dream.
Kayla Fowler is a Zoology major in the College of Natural Science, concentrating on animal behavior and neurobiology. Additionally, she is working on completing minors in Spanish and Documentary Production.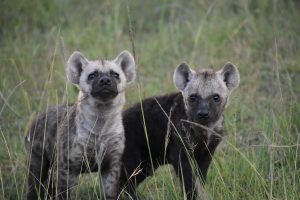 Beginning in January 2023, Fowler studied abroad in Kenya for four months at one of the Mara Hyena Project's field sites in the Maasai Mara National Reserve in Kenya, Africa. Fowler was the only undergraduate invited to join the field research team by Kay Holekamp, Ph.D.—Michigan State Biology professor and founder of the Mara Hyena Project.
Fowler's research work with Dr. Holekamp first started during Fowler's first year through the Professorial Assistantship Program offered by the Honors College. She began with data compilation, but as time went on Fowler was able to get more hands-on experience.
"I was interested in getting more involved with the animal behavior observation aspect of Dr. Holekamp's research, and she offered me the once-in-a-lifetime opportunity to spend my spring semester in Kenya." Fowler said.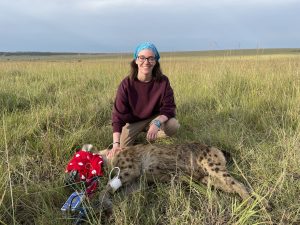 As a first-year student, Fowler dreamed of receiving an opportunity as special as this one. "I ultimately chose to attend MSU for one main reason: the wide variety of opportunities I would have to choose from within the Zoology major. I knew of Dr. Holekamp's work and was determined to go on the summer study abroad program she runs through her lab (Behavioral Ecology of African Mammals, or BEAM), but I never expected to work with her directly or be invited to spend my spring semester doing research for her lab."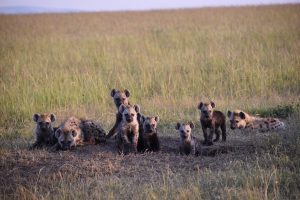 Dr. Holekamp's work through the Mara Hyena Project focuses on the behavioral ecology of spotted hyenas in the Maasai Mara National Reserve. She founded the project over 30 years ago, acquiring data from more than 10 generations of hyenas. Fowler notes Dr. Holekamp's research has been able to prove that the bad reputation that hyenas get through pop culture is almost entirely incorrect. "Through her decades of research, Dr. Holekamp has shown that hyenas are actually highly intelligent, socially complex creatures who are the most successful carnivores in the Maasai Mara—even more successful than lions!"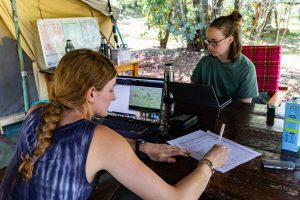 As the only undergraduate in the field, Fowler learned a wide range of field-research skills in a short amount of time. "During my time in Kenya, I was responsible for contributing to the routine research that the lab has been collecting since the start of the project," Fowler said. "This involved observing and recording spotted hyena behavior in the field, identifying individual hyenas based on their spot patterns, collecting samples, and a variety of other tasks that varied day by day."
While in Kenya, Fowler was also able to use the skills she has learned in her Documentary Production classes. Throughout the four months abroad, she filmed and compiled footage from her adventure into a video to document the experience.
"Being able to apply those documentary skills beyond the classroom while also doing research directly related to my major was super valuable for me, especially since my ultimate career goal is to produce nature documentaries," said Fowler.
Now back from her trip, Fowler looks back on the experience as one of the most valuable parts of her education at Michigan State. "Since I'm concentrating in animal behavior & neurobiology, being out in the field and recording animal behavior for later analysis was so rewarding and the experience was beyond anything I could have hoped for during my college career," said Fowler. "The experience positioned me very well for later studies in animal behavior and opened up many doors for me in both personal and professional ways."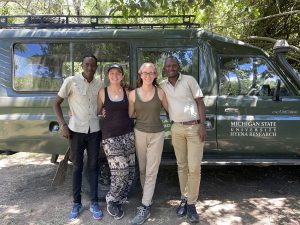 Studying abroad is an opportunity that is highly encouraged and supported by the Honors College. "Being abroad completely widens your perspective and is such an immersive way to enjoy interdisciplinary learning during your time in college," Fowler stated. "Studying abroad gives you a chance to apply your studies to real-world situations beyond the classroom, which is something that will prove valuable throughout the rest of your college and professional careers."
"The support from the Honors College is so instrumental in making your time abroad a success, so definitely take advantage of all the resources they provide for you," Fowler continued. "Studying abroad is a once-in-a-lifetime experience—go for it!"