To the Class of 2026,
Welcome to Michigan State University!
As you embark on this new journey, we encourage you to pause here at the beginning to consider how you will bring your whole selves to the story you will create at MSU. We welcome you as you are — in all the unique and beautiful ways you inhabit the world. Our campus is now your home, and we hope you explore its many wonders. From the Broad Art Museum to Spartan Stadium, from Beaumont Tower to Beal Botanical Gardens, there is so much to discover along the banks of the Red Cedar.
One of my favorite places on campus is the Alumni Memorial Chapel. Built in 1952, it stands on a hill overlooking the Red Cedar River just east of the Kresge Art Center. The Chapel is a space for reflection — the names of MSU alumni who died while serving in the armed forces since 1861 are etched in stone in its vestibule. The Chapel is also a place of connection — thousands of MSU students and alumni have been married there since its dedication.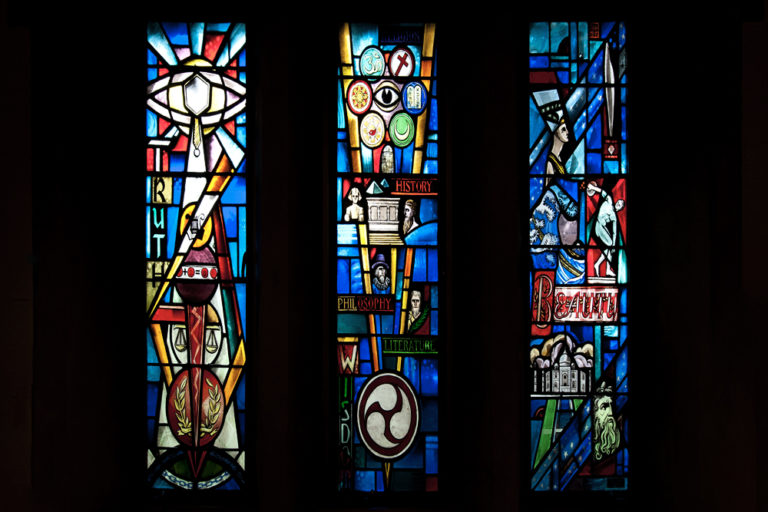 I call it to your attention now as you begin your MSU experience, because when you enter the quiet of its cool interior, you become immediately aware of the light streaming through two sets of stained-glass windows. On your right, you see windows that tell MSU's story: our founding in 1855, the admission of women in 1870, and the growth of the University as a leader in liberal arts and sciences and as a beacon of international peace. On your left, the windows speak to the values and aspirations of the Spartan community. A multi-colored spectrum lights the room with calls to leadership and advancing knowledge, creativity, wisdom, truth, beauty, and learning. As you begin your Spartan journey, consider what your story will be. How will you live out the values of equity, peace, and belonging? How will you create a just and beautiful life?
May your MSU experience be illuminated, like the sanctuary in the Chapel, by the Spartan spirit and its commitment to make the world a better place. We are honored to be here to support you in your journey.
Welcome home, Spartans!
Sincerely,

Christopher P. Long
Dean, College of Arts & Letters
Dean, MSU Honors College