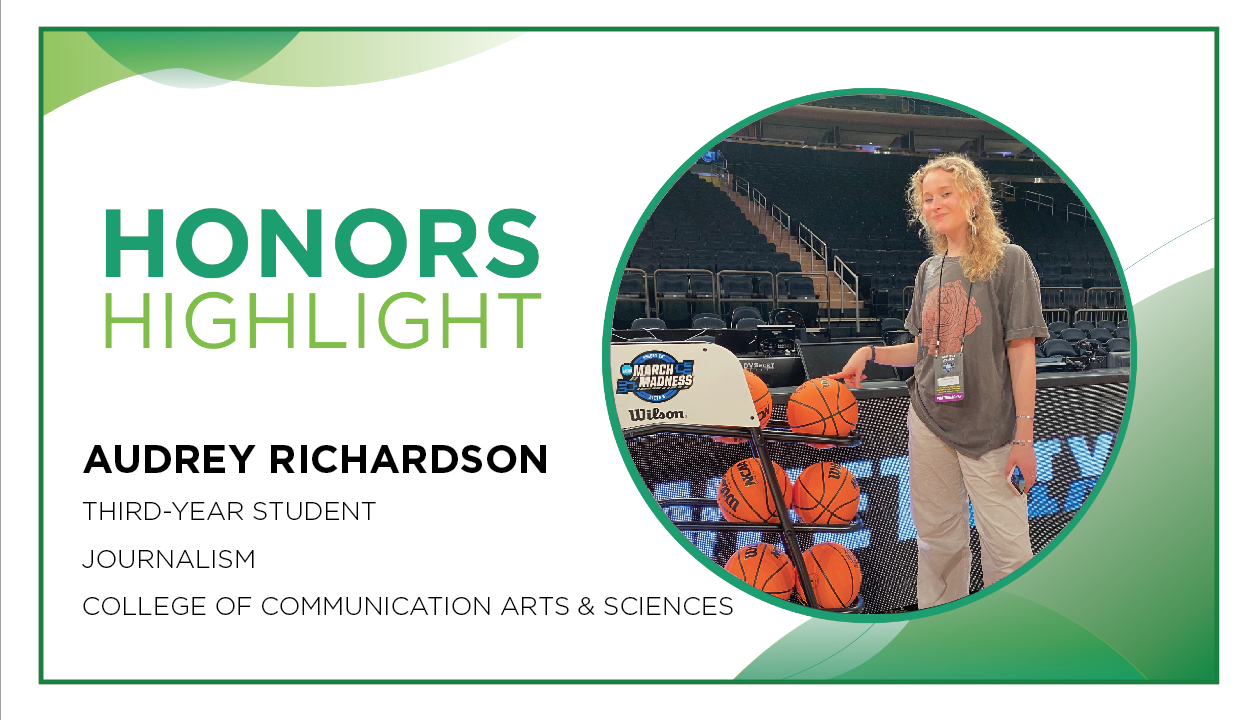 By Sloane Barlow
Third-year Honors student Audrey Richardson, a fellow writer for the Honors College, is also the Multimedia Director for the State News. Recently, she had the opportunity to travel to New York City as photographer for the Michigan State vs. Kansas State game on March 23rd.
"I learned a lot," she said. "I was the only student there beside my co-worker Devin Anderson-Torrez. It was a really great experience going out there on the court at Madison Square Garden."
Despite being the only student photographer, Richardson didn't let that get in the way of staying focused on the game. "I wasn't really nervous, I was more nervous for the team and how the team would do," she said.
The State News got Richardson and Anderson-Torrez a flight to New York and a hotel from Thursday until Sunday, in hopes that Michigan State would make it to the Elite 8. When Michigan State unfortunately lost to Kansas State, Richardson still got to use her media badge to cover the Kansas State vs. Florida Atlantic Elite 8 game. "The second game was a lot less nerve wracking and relaxed—I think I did better photo wise because of that."
Richardson described her process while photographing a game, "You definitely should always try to get the fans in addition to the athletes and coaches because they're part of the game too."
Although, she had to stay focused on her role as a communicator to the public as well. For the State News, Richardson was required to turn in 2–3 photos that were edited and captioned at halftime. This provided a visual for the story that State News reporters turn in immediately after the game ends, called The Gamer. Even after the game, Richardson had to continue sifting through, editing, and captioning her photos to make into a gallery for the State News website. You can view Richardson's photos of the Michigan State Sweet 16 game here.
At the State News, Richardson is currently the Multimedia Director managing a team of eight photographers. "Because I've known them since when I was a reporter, they respect me and they know what I expect of them—and what they can expect of me," Richardson said.
Since the State News is a student-led organization, Richardson highlighted the importance of collaboration in her managing role. "I try to be open about helping them out," she said. "It's really important that it's collaborative because it's a student organization because we're all friends."
Due to her creative talents in photography and writing, Journalism major Richardson is involved around campus and the community working for different media groups. In addition to her roles as Communications Intern for the Honors College and Multimedia Director for the State News, she is also the Photo Director for VIM Magazine and the Social Media Manager for Great Lakes Echo. Juggling all these commitments takes much diligence and dedication.
"I've definitely worked up a system. When I first started working, I was very unorganized and it would take me longer," she admitted. "But now I've got it down to a T, in terms of getting stuff done faster."
"It just takes practice—and practice makes perfect."