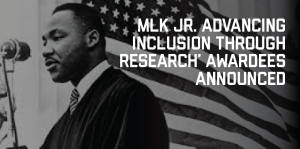 By Audrey Richardson
Four Michigan State University students and a recent graduate have received the Martin Luther King, Jr. Advancing Inclusion through Research Award.
The award was created in 2010 to highlight the ways in which MSU students follow King's legacy, using their analytical and creative skills to understand and re-envision the world. Student research and creative projects were considered if they were completed in calendar year 2022 and submitted by members of one of MSU's three Residential Colleges: Lyman Briggs College, James Madison College, and the Residential College in the Arts and Humanities, and/or the Honors College.
Their research, or creative project, supports the ideals of inclusive excellence through topics of inclusion, diversity, marginalized populations, and civil rights. The students were evaluated based on their research contribution, excellence, effort, evidence, and strategy.
"We are honored to have the chance to recognize these scholars from the residential colleges and Honors College who have thoughtfully connected their work to MLK's legacy," said Christopher Long, Dean of the Honors College. "Our award winners' scholarship exemplifies inquiry that will advance inclusion and justice through exposing history and by offering a critical analysis of education, colonialism, social norms, and cultural identity." 
The award highlights students who have followed in King's legacy, using their independent research and creative projects to further the inclusion and recognition of marginalized communities.
First Place
The first–place prize was awarded to fourth-year student Alexandra Sax for her research titled "The Untold Story of Detroit's Black Bottom and Paradise Valley Neighborhoods: How Urban Renewal Wiped them from the Map." Sax is a student at James Madison College studying political theory and constitutional democracy.
"The center of my research are two historically black neighborhoods of Detroit-Paradise Valley and Black Bottom," Sax explained. "These two communities were wiped from the map due to urban renewal, so my research looked at what roles the different levels of government played in destruction."
Sax learned about Black Bottom and Paradise Valley in her first semester at James Madison College.
"To be recognized gives me hope that others can learn about these histories and stories that aren't heard," she said.
Second Place
The second-place prize was awarded to recent graduate Abigale Dejene for her research titled "Unequitable Educational Conditions: An Examination of Disproportionately High Latinx Dropout Rates." Dejene was a student at James Madison College and majored in social relations and policy and comparative cultures and politics, with a minor in educational studies.
"Across the nation, students of color are denied the same educational opportunities as their whiter, richer peers," Dejene said. "Too often, this is accepted as the norm, allowing unequal educational conditions to persist."
Dejene connected her passion for advancing educational equity to her studies on public policy.
"I think it is important to understand and address inequalities in education, and I am grateful that the selection committee recognized that."
Third Place
The third-place prize was awarded to two students. One is third-year Neely Bardwell for their research titled, "Blood Quantum Politics As A Tool For Continued Colonization." Bardwell is a student at James Madison College and Honors College studying social relations and policy.
Bardwell is directly affected by the issue of blood quantum status, as she is excluded from the tribal citizenry.
"Blood Quantum was started as a tool to assimilate and eradicate our communities," Bardwell said. "I argue that using this today is only continuing the colonization and assimilation process."
Bardwell said it's important to her to move beyond blood quantum.
"Having this paper recognized for this award, mans that the university is recognizing indigenous knowledge as something valid in academia," Bardwell said.
The second third–place prize was awarded to fourth-year Ethan Soave for his story, "A More Beautiful & Confident You!" Soave is a student at Lyman Briggs College and Honors College studying neuroscience.
"I created a story about a person struggling to make it in a world that is hyper-focused on what a person looks like, rather than who they are as a person, and excludes people from every aspect of society if they don't look a certain way," Soave said.
He said that the story is relevant in today's society because of the intense pressure to conform to others' expectations.
"The more people who recognize this issue and speak up or do something about it, the faster and more likely change is to come," Soave added. "I sincerely hope my research inspires others to raise awareness or create something themselves."
Honorable Mention
An honorable mention was awarded to fourth-year Stella Weinberg for her research titled "Second–Generation Immigrants: An Examination of Cultural Identity Through Double Consciousness and Frame Switching." Weinberg is a student in the College of Social Science and Honors College studying sociology.
"As we continue to become an increasingly diverse society, we must find ways to become more accepting of all different races, ethnicities, and cultures present," Weinberg said.
Weinberg is in her final semester at Michigan State.
"This is a wonderful way to wrap up my educational career," Weinberg said. "I plan to take everything I learned from this experience as I set out on my future endeavors following graduation."
The award ceremony to honor the achievements of these Michigan State scholars will take place on Feb. 13 at the Kellogg Conference Center at 4 p.m. Registration for the event has reached capacity. You can still watch the event with this live stream link.