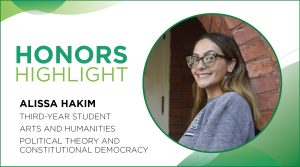 By Audrey Richardson
As an interdisciplinary student, Alissa Hakim discovered she can combine all of her passions into her studies. Whether it be physical art, philosophy, politics, poetry, research, community-engaged work, or law — her majors complement one another perfectly to help achieve her goals.
Alissa grew up in Dearborn Heights and is a third-year student from Lebanon. She is double majoring in arts and humanities as well as political theory and constitutional democracy with a minor in Muslim studies.
"There are phenomenal perks when it comes to being an interdisciplinary student since I'm able to explore all my interests," she said. "I have a community engagement pathway in the Residential College in the Arts and Humanities, which is my predominant interest, but I can shape it to be what I want."
Making Waves through Research
Since attending MSU, Alissa has participated in an outstanding amount of research and on and off-campus opportunities that match her interests. 
Last year, Alissa received funding from the Honors College Research Scholar program and will continue to receive funding this year to work with the Juvenile Risk Assessment Team (JRAT).
Alissa is also a professorial assistant through the Honors College.
Through JRAT, she conducts her own research project for the Ingham County Court. Her research focuses on patterns in risk and risk level across racial and ethnic lines to observe differences in trends for areas such as: education, substance abuse, and family relationships.
Alissa is planning to present this research at the 2023 University Undergraduate Research and Arts Forum (UURAF) and hopes to present it in Maryland at the annual Academy of Criminal Justice Sciences conference as well. 
She has participations with ASMSU, as she was previously a general assembly representative for RCAH and is currently the Programming Coordinator for ASMSU's Office for Diversity, Equity, and Inclusion.
"I am still coming into my own with this position, but I hope to work with student organizations as well as CORES and COPS groups to create more inclusive and representative programming whilst establishing stronger bonds with the student body," Alissa said. 
She is also an undergraduate research assistant for RCAH Sister Circle, where she provides programming and mentorship for undergraduate women of color in academics, professional life, and overall personal development.
Alissa represented the organization at UURAF for the past two years, winning first prize during her first year in the position.
Looking Forward
Post-graduation, Alissa plans to continue her education in joint law and humanities.
"I truly do want to find my way to the White House one day, but I won't be able to get there ethically without understanding the laws of the land nor without building strong relationships with others," she said. 
Alissa is grateful for the opportunities Michigan State and the Honors College has provided, as this newfound knowledge will aid her in all endeavors after graduation.
"It goes without saying that as a predominantly white institution, MSU has its own issues relating to power politics, transparency, student safety, and playing into systems of oppression," Alissa said. "Yet, I am so grateful to be where I am, when I am, and how I am at this school."
"The only thing I can hope MSU and the Honors College will help me do is get to doors that may have been previously closed for me and help me grow into the strong, compassionate, knowledgeable, and kind woman I want to be."