By Brandi Stover
When Riley Lawson visited Michigan State for the first time in Spring 2019 to attend the Alumni Distinguished Scholarship (ADS) competition, he knew he had found his new home.  
"The ADS competition was my first large experience with MSU, and it was an exciting opportunity," Lawson said. "Beyond the scholarship itself, it was really interesting to see what the community was like and the types of students the Honors College was attracting—it felt like somewhere I thought I would fit in."  
Lawson would go on to receive the Alumni Distinguished Scholarship from the Honors College, and from there choosing MSU became an easy decision. Not only did he find comfort in the community he would be joining, but the opportunities the Honors College offered would give him the chance to explore his interests while simultaneously building his knowledge.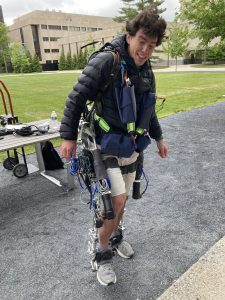 As a dual-degree electrical engineering and advanced math student, Lawson was naturally dedicated to his academics, but that did not stop him from remaining heavily involved throughout his time at MSU. From joining leadership organizations such as the Associated Students of Michigan State University and Honors Students Actively Recruiting (H-STAR), to competing with the MSU Strength Augmenting Robotic eXoskeleton (STARX) Team, Lawson found staying involved on campus helped him make the most of his college experience. 
"MSU just has so many opportunities—I was like 'why not?' to many of them, and I don't regret it." 
Alongside his involvement in student organizations was his dedication to research on campus, which he participated in throughout all four years of his undergraduate education.  
"While I was at MSU, I was involved with four different groups doing research studying batteries, electric vehicles, tumors, and human augmentation. Each gave me a lot of varied research skills that have helped me acclimate into different research environments and make new connections."  
Lawson credits this research and the Honors College for many of the transformative experiences that led him to apply for a PhD program at the Massachusetts Institute of Technology (MIT). From beginning his research journey as a Professorial Assistant to taking Honors graduate courses, he is proud of the way he took advantage of his time at MSU.  
"Graduate school is primarily a research-based endeavor so being able to speak to research experience, especially the amount of it and the large breadth I had, was very useful when applying," Lawson said. 
His vigorous yet fulfilling time at Michigan State left Lawson with much wisdom to pass down to younger students. He advocates for all students to join organizations, attempt to find a research position, and do more than just study.  
"Adopt the philosophy of 'engage with everything.' MSU is huge and it is impossible to do everything, but not being afraid to at least try something is important."