Last week, the women's cross country team won the 2023 Big Ten Championships – their fourth conference title in five years.
"I'm super proud of them all," said Director of Cross Country and Track & Field Lisa Breznau in a recent article. "They've been a phenomenal team all fall and I know that's what we're going to continue see the rest of the season."
Honors student Emily Bardwell did a Q&A with us on competing and scoring points toward the team victory. The Spartans won the meet by a commanding 35 points.
How did the start of your race go at the Big Ten Championships?
The feelings around this meet were different than past races. There was a lot on the line, and although we rarely talk about outcome, we all knew we wanted to win.
It wasn't your typical beautiful day, but for us, the wet and muddy conditions were perfect. We had so many fellow teammates come out to support, that I knew I was running for something special. When the gun went off, all of the nerves that had been pent up for so long finally left my body and my mindset went from "what if…" to "let's make this happen".
What did you do when things got hard?
Since I got out faster than usual, the race became challenging early for me, but I found my teammate Lauren and we worked through the middle together. While the slick mud became almost unbearable, I reminded myself of the role I had to fulfill for my team today. My coach's voice echoed in my mind: "Lowest stick possible."
For those unfamiliar with the phrase, a "low stick" is a callback to the days of popsicle stick scoring. When a runner crossed the finish line, they would receive a wooden stick with their overall place written on it. A team score is the sum of the finishing places of the top five runners, and many races are decided by the fifth runner's overall place.
How did the rest of the race play out for you?
Eventually the nerves I had felt all week started to creep back in. I started to feel the pressure of being our number five runner. However, I was quickly supported by fellow teammates on the sideline, urging me forward. Their cheers reminded me of my purpose. Soon, I heard my teammate Ellie run up behind me and utter a quick word of encouragement under her breath. We took on the rest of the race together, passing other teams and working up.
With just 1K to go, I tapped into my last gear. The race was no longer about fitness or endurance, it was about heart and grit. I made the decision to dig deeper for my team. If we weren't in the lead, I was going to go down in a fight trying to get us there. I chased down just a couple more in the finishing shoot, landing what I later learned was 15th place. Still unclear of the result, I heard the familiar chant "Go Green…Go White" in the distance. With this, I finally knew our fight had been successful. It was all worth it.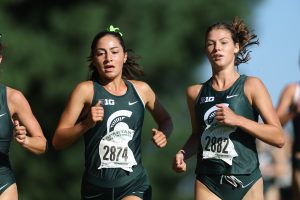 What do you wish more people knew about the about the women's cross country team?
We have been a historically successful team, but sometimes people look at our titles and think that cross country must be less competitive than other sports. Truth is, trophies and medals don't just happen, they are earned! As part of one of the most competitive conferences in the country, that says a lot about us. We are team of grit, resilience, and ownership. One of our biggest strengths is our ability to fight and sacrifice for one another.
How has the Honors College been part of your experience at MSU?
Being an honors student has allowed me the flexibility to maximize my time on classes and projects that excite me and go beyond a regular undergraduate experience. Specifically, I have been able to take 800-level classes to start my master's coursework early. This opened the opportunity to earn a typical two-year MS degree with just one additional year – maximizing my five years on the cross country team.
Were there any benefits that were helpful to you as a student-athlete?
Belonging to the Honors College community has provided me unique support to succeed as a well-rounded student-athlete. My advisors have always helped me navigate my undergraduate career despite my commitments as an athlete.
I have also enjoyed going to Honors College events and meeting people with diverse backgrounds outside of sport. Being an active member in both of these communities has provided me a unique perspective that will empower me to take on diverse challenges in the future.
Thank you to MSU Athletics for providing the photos for this article.