Message from the Dean
Let Us Begin Again Together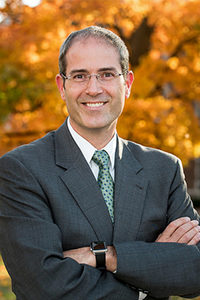 Welcome and Welcome Back, Honors College students,
You begin or continue your MSU journey at a time like no other. As we navigate the impact of the COVID-19 pandemic, we are thrilled to reconvene together on campus. This offers us an opportunity, perhaps unique in our lifetime, to begin again together. In the course of a life, there are many opportunities to begin again – starting college is one such important instance, but so too do we begin again when we move, or start a new job, or experience the joy of travel.
This semester, however, we have a rare opportunity to begin again together. This is a new beginning for you who are starting your college career at MSU, but it is also a new beginning for our sophomores who have not yet had the full MSU on-campus experience; and it is a new beginning for our faculty and staff as we return to new ways of working together on campus. For me personally, this is a time of firsts, as I take on the exciting new responsibilities of being the Dean of the MSU Honors College in addition to my long-cherished role as Dean of the College of Arts & Letters. Each new beginning offers us an opportunity to consider how we want to shape the future we hope to create together. For each of you, now is a time to consider who you want to become, and how you will build a meaningful life for yourself and contribute to the greater good.
What makes this new beginning different from each new beginning of the academic year is that we have a chance to think together about how we want to bring what we have learned over the past 18-months since the start of the pandemic into a future that is more just, more caring, and more beautiful. As we undertake this effort together, we need your imagination, your creativity, and your energy to build a future in which everyone feels welcome, supported, and empowered to reach their fullest potential. I urge you to take care of each other as you take care of yourself.
Each of you has a world of opportunities set out before you, and a community of scholars in the Honors College prepared to help you along the way. I encourage you to explore new fields of study, to stretch yourselves beyond what you thought possible, and to bring your best ideas and most creative insights to our shared effort to begin again together.
I look forward to seeing you at our upcoming events in the Honors College including our Resource Fair for first year students and our annual picnic for all our students. Thank you for reading the Weekly and for staying engaged with us at this important time.
Christopher P. Long (he/him/his)
MSU Foundation Professor
Dean of the College of Arts & Letters
Dean of the MSU Honors College
Professor of Philosophy