Sharper Focus/Wider Lens

Since 2011, Sharper Focus/Wider Lens has offered students, faculty, staff and the Greater Lansing community the opportunity to grapple with important issues or questions in a trans-disciplinary format.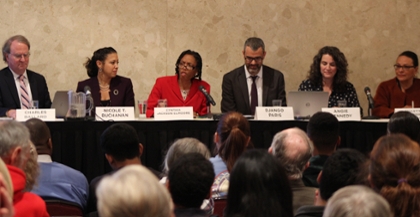 The Michigan State University faculty panel brings their unique research, teaching and writing experiences from a wide range of disciplines to explore contemporary and historical issues.
All forums are free and open to the public and refreshments are provided.
2022 Sharper Focus/Wider Lens Topics & Dates
2021 Sharper Focus/Wider Lens Topics & Dates
If you would like to suggest an event topic, contact John Beck at beckj@msu.edu.
Previous topics of Sharper Focus/Wider Lens
Previous faculty speakers at Sharper Focus/Wider Lens
Photos of previous Sharper Focus/Wider Lens
---
It was my pleasure to contribute to such an important endeavor! Thank you for the invitation and affording me the opportunity of a new experience.
---
It is always so fun to meet and interact with colleagues from across campus. We don't get that opportunity nearly enough! Thanks to my colleagues for sharing their expertise, ideas, and enthusiasm about their work.
---
It was the first across-campus event for me, and I learned a lot and had a quite fun interacting with faculties I have yet worked with. It is always great for us to have different perspectives and inspiration from other scholars.